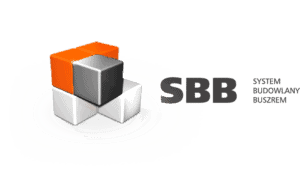 Buszrem S.A. presents the designs of houses that are constructed using the SBB (System Budownictwa Buszrem; in English: Construction System Buszrem) technology. This involves prefabrication of the whole walls from lightweight expanded clay aggregate concrete.
Technology SBB (fast construction technology) is characterized by the fact that the building is manufactured in the production line and then it is constructed on the developer's building site. The walls produced using the SBB method can be 120 mm, 150 mm, 175 mm, 200 mm, 240 mm thick. The height and thickness of walls depend on the individual design. The whole wall is divided into prefabricated components; the connections are located along the transverse element. Window holes are available in every form depending on the project. There are edgings integrated with the wall to facilitate the process of the installation of window- or door- frame woodwork.
Knee walls are produced together with a ring beam (like the walls of a one-storey building) and with an attached threaded coupler. Additionally, for the outer walls, it is used a ring beam support that is integrated with the wall components. It maximally shortens the process of implementation. The junction boxes for electrical wires are placed in the components as planned. Every wall chase and hole (in all shapes and sizes as in the installation plan or due to an individual order) is manufactured in the phase of forming the walls during the production process. For the houses with lofts, the components of walls can be produced with slants adjusted to individual order, or to the ring beam design. The precision of dimensioning amounts to 2 mm that is difficult to reach when using the traditional bricklaying methods. The walls are perfectly smooth; they do not need to be plastered; they are ready to be painted or covered with wallpaper the second day after the installation. The installed components do not require seasoning; in the case of traditional methods, it usually lasts  3-6 months. It is possible to start the finishing works directly after the installation. In the traditional method, the team of bricklayers must perform a lot of additional works that are often crucial for the ring beam structure or lintel structure.
Due to the prefabrication of the whole walls, there is no need of performing many various works such as drilling wall chases or places for sockets, spackling, or plastering. There is no need of seasoning the material; after the installation of the components, the following works can be immediately started. In the SBB method, after delivering the whole walls to the construction site, the construction is a matter of placing them on the foundation or transfer slab and connecting them.
Using thinner walls than those used in traditional methods is very significant. In this way, the usable floor area is increased. Depending on the planned thickness of the walls, the area can be increased by even 10%.